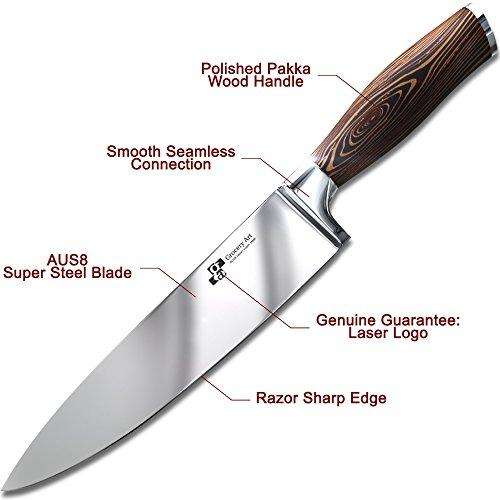 Chef knife premium japanese steel
FREE SHIPPING - 

Two Day Shipping (Domestic - USA)
REAL JAPANESE STEEL: The 8" blade featured in the design of our pro kitchen knife is forged from 100% Japanese steel. Sturdy & dependable, it cuts through just about anything with ease, including sushi, meats, veggies, roots & fruits
STRONG WOOD HANDLE: We've paired the Japanese steel knife blade with a top grade pakka wood handle, making it incredibly easy to grab. Why fuss with an imitator when you can get a hold of the real thing?
DURABLE & RUST-PROOF: AUS8 Japanese steel & solid pakka wood were chosen for this cooking knife in order to ensure it provides the strength & durability you expect & need out of everyday kitchen knives
EASY TO CLEAN BLADE: Since it's naturally rust-proof & non-porous, the blade of our wooden handle Japanese knife is conveniently easy to clean. Simply wipe it down, rinse it off, pat dry or air dry
GREAT CULINARY GIFTS: Packaged in a black magnetic knife box that has been lined with velvety red fabric, these Japanese chef knives make excellent cooking gifts for men & cooking gifts for women! It's a great Christmas gift idea as well!
Size: 8 Inch
Color: Steel
Model: Ga Ckjs 001
Manufacturer: Grocery Art
CLAIM YOURS!
4 REASONS TO BUY FROM US: