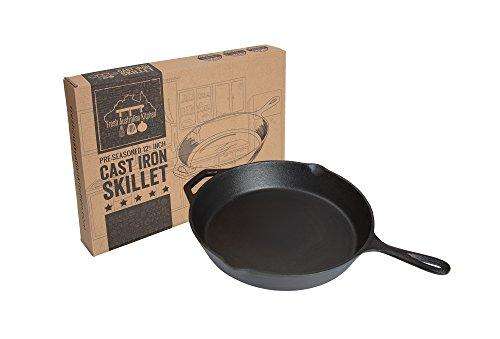 Fresh australian kitchen pre-seasoned cast iron skillet 12.5 inch.
Brand: Fresh Australian Kitchen
Color: Black Cast Iron
Features:
EPIC DURABILITY - With Care, Your Pre Seasoned Cast Iron Skillet Will Last for Generations to Come. Made from Heavy Duty, Commercial Quality Cast Iron, each Skillet Comes Pre-Seasoned and Ready to Use, Straight Out of the Box.
BEAUTIFULLY VERSATILE - Fry, Bake, Sauté, Grill, Broil, Braise, Sear with your Skillet Pan. Each Skillet is Oven Safe and Suitable to be Used on a Gas, Electric or most Induction Stoves... at Home, on an Outdoor Range or Grill or Camping.
LEGENDARY HEAT RETENTION - Allowing Even Cooking for Superb and Delicious Results.
IRON-4-IRON - Many People Suffer from Iron Deficiency. Iron Cookware Fortifies Food with Iron.
FRESH AUSTRALIAN KITCHEN - Products for A Healthy, Outdoors, Lifestyle... With the Security of a Lifetime Guarantee.
Details: Fresh Australian Kitchen Pre-Seasoned Cast Iron Skillet 12.5 Inch

SUPER-TOUGH, EPIC DURABILITY
Tough Enough to Last for Generations in Fact, it Improves with Use
When Seasoned Properly, Cast Iron is Naturally Non-Stick
But Remember;
1. Hot Water NOT Dish Washer
2. Scrub It DON'T Soap It
3. Re-Season For a Skillet Re-Born!

BEAUTIFULLY VERSATILE
On the Cooktop or in the Oven
Induction, Gas, Ceramic, Halogen, Electric
At the Beach or On the Campsite
Grill, Bake, Fry, Sear, Sauté, Broil, Baste, Flambé
You Are Only Limited by Your Imagination

LEGENDARY HEAT RETENTION
Cast Iron is Actually Slow to Heat Up... So, it's Also Slow To Cool Down
Which Means It Retains Heat Longer and Won't Produce Temperature Spikes
Giving You Superb Control Over Your Cooking

IRON 4 IRON
Cooking with Iron Helps Fortify Food with Iron (Journal of the American Dietetic Association; July 1986)
Get Outdoors with Your Skillet. Use It on a Campfire or Outdoor Grill.
Your Fresh Australian Kitchen Cast Iron Skillet was Born To Love the Healthy Outdoors!

Made in China at a FDA Approved Factory

UPC: 754220755973
EAN: 0754220755973