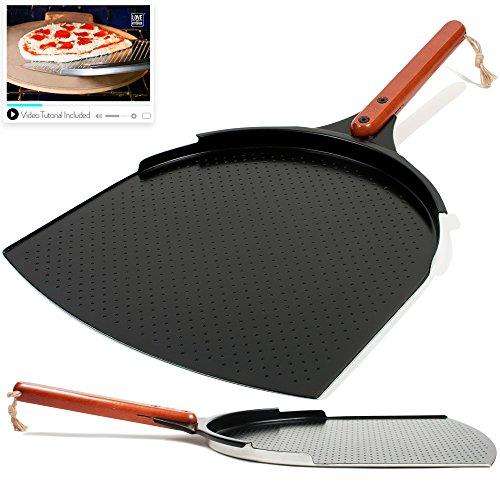 The ultimate aluminum pizza peel
Brand: Love This Kitchen
Color: Black
Features:
✔ TAKES THE HASSLE OUT OF BAKING PIZZA: Advance design allows experienced cooks and novices alike to get the pizza in and out of the oven with ease. No more worries about it sticking to the peel or the pizza stone, or falling of the sides! To help you make the best of your purchase, your peel comes with a detailed Instructions Manual (inside the package), an Online Video Tutorial (on our website) and a Bonus 108 Pizza Recipes Electronic Book (sent via email)!
✔ SAFER THAN REGULAR WOOD & METAL PEELS: Unlike pure wood, which must be cleaned, maintained and dried very well (otherwise mold, fungus and bacteria will grow on it), or metal paddles, that change the taste of your food, our Aluminum paddle has an inert, non-stick, nano-ceramic coating that is FDA Food Safe Tested, with NO Teflon or PBAs.
✔ NO NEED FOR EXCESSIVE FLOUR: Unlike traditional metal or wood peels, there is no need for excessive flour, since special divots on nano-ceramic surface are designed to help releasing raw dough onto stone (for best results, watch the online tutorial video). Your crust will taste like crust-not burnt cornmeal.
✔ UNIQUE DESIGN FOR AN IMPROVED & SAFER COOKING: (1) BACK LIP PREVENTS PIZZA SLIPPAGE: Back of peel has a raised lip to help keep the cooked pie ON the peel unlike regular peels, where it is easy for the pizza to slide off the sides. (2) ANGLED HARDWOOD HANDLE: Peeler has a 10-inch hardwood handle to keep a safe distance from the heat; positioned at 15 degrees, it allows easier access to the oven. (3) NO SPECIAL MAINTENANCE REQUIRED: Just wash with warm water and soap and you're done!
✔ 60-DAY MONEY-BACK GUARANTEE - At Love This Kitchen®, we take everyday tools and redesign them to make them better, stylish, and enjoyable. With the best materials and extensive quality control, we create top of the line products: practical kitchen tools that are made to last. If you aren't 100% thrilled with your Ultimate Aluminum Pizza Peel, just contact Amazon within 60 days and receive a refund. Our products ship fast from Amazon warehouses all around the US, so Order Now!
Publisher: Love This Want This
Warranty: Manufacturer's Warranty for 60 Days from date of purchase
Details:
This sturdy, non-stick pizza peel combines the best features of wood and metal into one highly functional tool. Its specially textured surface and bottom make it easier than ever to slide your pizza on and off the stone, even if you're new to pizza making!
Whether you're an accomplished home pizza chef or a newbie, the Ultimate Pizza PeelTM by Love This Kitchen® simplifies the mechanics of building your pie AND getting it on and off the pizza stone.
ENJOY the pizza making experience instead of worrying about a messy disaster!
Made of lightweight, food grade aluminum with a nano-ceramic coating, this peeler also has tiny divots on its surface to allow for less contact between the raw dough and metal. So it needs less flour to help release the dough onto the stone. After all, who wants the taste of excess flour or burnt cornmeal on their crust?
What's more, the bottom of our paddle has raised contact points to help it slide smoothly between the stone and your pizza, making it a cinch to take it out of the oven. The sturdy wooden handle is long to keep your hands away from the heat, and it's built at a 15-degree angle so you don't have to stoop down too much when removing the pie after baking.
• Non-stick aluminum, Teflon-free
• Lightweight yet durably constructed
• Allows for use of less flour / cornmeal
• Lip prevents pizza from sliding off
• Easy to clean
• Ideal to make pizza both in the oven or on the grill. This peel has been tested at high temperatures by our customers on Kamado Joe, Weber, Traeger, Big Green Egg, Uuni 3, Pizzeria Pronto, Mastercraft and many other Commercial & Professional, Charcoal or Gas, BBQ Grills
• Angled handle for ease of use
• Long, 10" hardwood handle to prevent burns
• Includes instruction manual, Online Video Tutorial & a 108 Pizza Recipe eBook
• Makes a GREAT GIFT!
Upgrade home pizza making experience with the Ultimate Pizza Peel