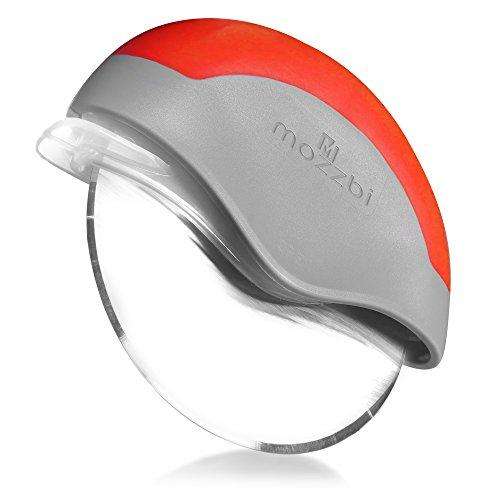 Pizza slicer wheel by mozzb
Brand: Mozzbi
Color: Red
Features:
GRIP, SLIDE AND WATCH IT GLIDE Get ready for the game-changing pizza cutter that slices through any pizza, first time and every time. Don't risk your money on cheap alternatives, order now for see for yourself how this cuts through all of the competition!
PIZZA SLICER, CLEAN AND FLAWLESS FINISH We know exactly how frustrating it can be when sticky cheese leeches on blunt blades, leaving a hot nasty mess. But not anymore. Our Mozzbi Pizza Cutter is designed for maximum comfort and a perfect fit in your palm, so its laser precision blade can do all the hard work for you. Just grip, slide and watch it glide through any pizza, any size, any thickness.
CUTTING EDGE DESIGN THAT PROTECTS - Show off your finest and latest high-tech performance blade with a stylish design for any kitchen. But it's about more than just looks. Our custom thermoplastic elastomer handle is fixed with a protective shield to guard those precious fingers too!
CLEANING COULDN'T BE EASIER - Tired of washing those hard spots after a meal? Lucky for you that the Mozzbi Pizza cutter can be easily dismantled, making it super simple to wash those "hard to reach" areas.
OUR 100% RISK-FREE PROMISE TO YOU - In addition to our 1 year 'no quibble' warranty with every product, we are so confident that you'll love this product 100% that if for any reason you are not satisfied after 30 days of use, we'll give you your money back. So why wait - don't just read about it, try our mighty Mozzbi pizza cutter risk free now!
Details: We've all seen those claims from other Amazon sellers...
We can claim that our product is:
• # 1 Pizza cutter
• Cuts anything soft which fits under the balde
• Grade 430 Stainless Steel Blade
• TPE and ABS material handle
• FDA Approval and BPA Free
• Palm-held design comfortable to hold and control
• Dishwasher safe
• 12 Month Warranty [Condition Applies]
• ...and so on
Like myself, most buyers don't understand the technical jargon. All you want is a Pizza cutter that CUTS Pizza, offers Value for money and lasts a long time.
Mozzbi Pizza cutter does exactly that and this is the
ONLY CLAIM WE STAND BY.
We totally understand, that it can be a risky venture to buy an online product without seeing or touching it.
That's why we go that extra mile for our customers and offer a 30 day 100% Satisfaction or Money Back Guarantee.
Mozzbi is confident - Let the Pizza cutter do all the talking! 'SEEING IS BELIEVING'
Our customers are intelligent and know a good product when they see one. We want our customers to make the statement whether it's #1 product or #1000 product!
Give this product the headline it deserves!