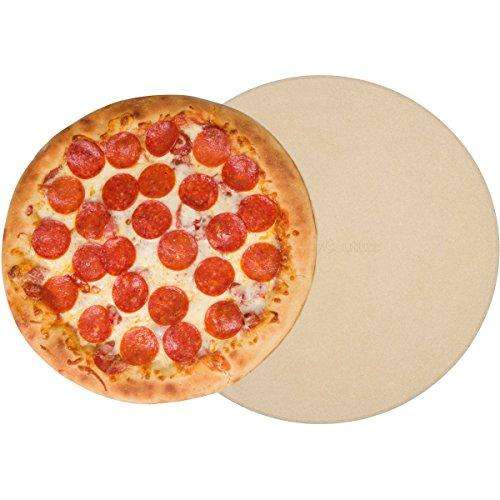 Pizza stone for oven baking grilling
Brand: Culinary Couture
Color: Beige
Features:
DELIGHTFULLY CRISPY CRUST: Our pizza stone is 3/4" thick, much more thicker than our competitors' stones, engineered to achieve a crispy pizza crust, every single time! This baking stone will satisfy even the pickiest of pizza crust lovers! It is also great for reheating any leftovers, bringing back the food's excellent taste and freshness!
VERSATILE KITCHEN ESSENTIAL: It's more than just baking all your favorite pizzas! This durable round stone allows you to try out all your favorite recipes and bake bread, chicken tenders, shrimp, cookies and any other pastry to perfection! Don't miss out on the opportunity to provide the best meals and treats to your family!
UNIVERSAL STONE FOR OVENS & BBQ GRILLS: It's now easy to enjoy yummy pizza slices, all year long! Whether cooking a quick, at-home meal during cold winter nights or organizing one of your smashing, outdoor BBQ parties, this pizza stone will be your go-to kitchen utensil to quickly prepare everyone's favorite dish - pizza!
DURABLE BAKING STONE & SECURE PACKAGING: Made from superior cordierite material, this sturdy stone allows baking up to a whopping 1000 °F. Our grill stone is not brittle and will not easily break! To ensure they get to you in tip top shape, all our pizza stones come in secure, high quality packaging enforced with polyethylene foam.
FREE GIFT INCLUDED: We take great pride in the quality of our Pizza Stones and offer you a risk-free purchase. To help you enjoy cooking with your new pizza stone, we are offering a FREE E-Book with 45 delicious pizza recipes! (Comes as email attachment once delivered.) Click Buy Now And Get The Best Pizza Stone On Amazon!
Publisher: Culinary Couture, LLC
Details: Making Homemade Pizza Is Easy With Culinary Couture's Round Pizza Stone!

Aren't you tired of resorting to pizza takeout, night after night?

Don't you wish you could make your own pizza, with fresh, healthy ingredients?

Being a pizza master doesn't require years of professional training. We can guarantee that you will master all your favorite pizza recipes, experiment with your own unique flavor combinations, and easily gain the title yourself!

How? By purchasing our superior pizza stone, of course!

Culinary Couture's Pizza Stone Helps You Make Mouth-Watering Pizzas, Every Time

Some of our product's key benefits include:

- Sturdy, High Density Cordierite Stone That Will Last You For Years

- 3/4" Thickness For Even Heat Distribution & Crispy Crust Pizza Baking!

- Extreme Heat Resistance, Absolute Baking Safety In All Ovens & Grills

- Ample, 15" Surface Area Allows You To Both Prepare & Bake Large, Family-Sized Pizzas

- Bakes Every Pizza To Perfection; NO Soggy Centers Or Uneven Crusts!

Make a wise investment for your family's health. Decrease unnecessary takeout spending and gain control of your food's quality.

Purchase Your Very Own Pizza Stone Now And Enjoy Authentic, Italian Style Pizza, Every Time You Crave It!