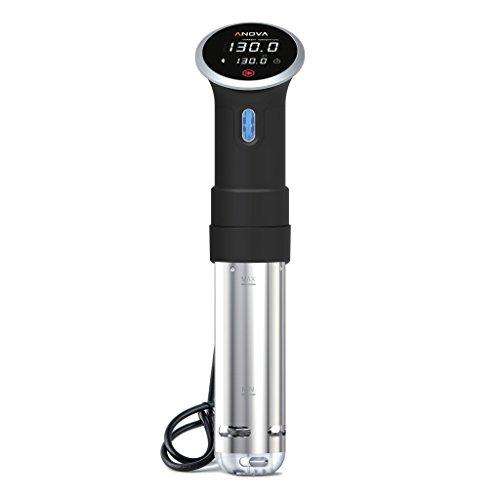 Anova culinary sous vide precision cooker bluetooth, immersion circulator, 800 watts
Brand: Anova Culinary
Color: Black
Features:
The Anova Precision Cooker brings sous vide to your home, so you can enjoy a cooking technique made famous by professional chefs for its incredible results
Sous vide cooking produces restaurant quality results that are impossible to achieve through any other cooking method. Food is cooked evenly edge to edge, with no worry of overcooking.
Heats and circulates water in the pot, evenly cooking food to a precise temperature to guarantee perfect results every time. Cook everything from meats, fish and vegetables to soups, and desserts.
Easy to use - just attach the cooker to any pot, add water, drop in your ingredients in a sealed bag or glass jar, then press start. No fancy equipment required
Simple interface on the device to set the time and temperature manually - or use the Anova Culinary app to find your cook settings and hit 'Start'.
Bluetooth connectivity enables you to start, stop and monitor your cook from your mobile device, so you'll no longer be tied to your kitchen when you're cooking.
Warranty: 1 year warranty, 30-day moneyback gaurantee
Details: The Anova Precision Cooker makes it easy to achieve professional-level cooking results at home. To use, simply attach the cooker to any water-filled pot, put your food in a sealable bag, and set the time and temperature. The Precision Cooker heats and circulates the water to a precise temperature, cooking food to an exact temperature which creates maximum tenderness and moisture retention (without worry of overcooking). The Anova Precision Cooker connects to your phone, so you can cook amazing meals by the touch of a button - spend less time tied to the kitchen by relying on the app to notify you when your food is ready to eat.