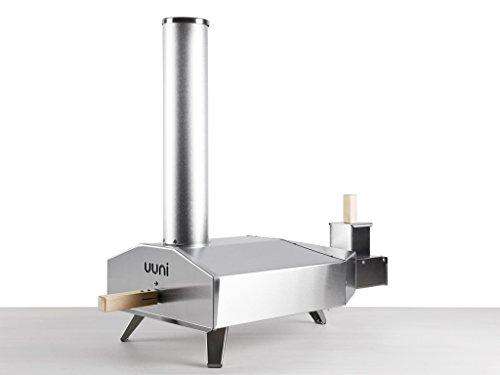 Uuni 3 portable wood pellet pizza oven
Brand: Uuni
Color: Stainless Steel
Features:
NEW model Uuni 3 wood-fired oven capable of 932°F
Heats up in just 10 minutes and cooks a pizza in 60 seconds
The definitive tool for your garden or outdoor kitchen
Powered by wood pellets
Buy directly from us at Uuni, the official manufacturer
Details: Uuni 3 is the definitive tool for your garden or outdoor kitchen. It's designed specifically to take the cost, bulk and hassle out of using a wood-fired oven. An evolution of the highly acclaimed Uuni 2S, Uuni 3 reaches 932°F in just 10 minutes and can cook an authentic wood-fired pizza in an incredible 60 seconds. The patent-pending oven runs on wood pellets which are very energy-dense and inexpensive. What's new in Uuni 3? • Insulated body - for maintaining heat efficiency • New Wood Pellet Burner - enabling better temperature control and consistent cooking • 3 legs instead of 4 - making Uuni even more stable on any surface. • New chimney clip - the addition of this mechanism makes it easier than ever to pack up and move, whether heading to the hills or hitting the beach. Extreme 500°C heat Uuni 3 gets up to 932°F which enables you to cook food really fast. You can make a wood-fired pizza in just 60 seconds! Not just for pizza; Uuni 3 is great for all types of meat, seafood, vegetables, flatbread - ideal for any food that enjoys short cooking times. Wood-fired Uuni is powered by wood pellets which are very energy-dense and cheap; they're like regular wood except compressed. No additives, no hidden extras. Just wood. The pellets ignite easily & Uuni takes just 10 minutes to heat up, from cold to 932°F. Lasts a lifetime Uuni is made of beautiful brushed stainless steel. It weathers and ages as you use it, but it doesn't rust and just keeps on performing. It'll make for a key feature in your outdoor kitchen or barbecue area. Entertainment Because of the ease and speed-of-use, Uuni is fantastic for entertaining friends or family. Get the gang together to make their own pizzas and then wood-fire them to perfection in front of their eyes. Responsibly Sourced All Uuni products that contain wood have been responsibly sourced and we even plant a tree for every Uuni 3 + bag of pellets sold! Read more about the Uuni sustainability project here. Award Winning 2017 Vesta Award Winner 2017 RHS Chelsea Flower Show Finalist (judging to take place May 2017) Technical specification: • Weight: 13.4 kg / 29.5 lbs. boxed • Size: 22x36x64 cm / 8.6 x 14.1 x 25.2" (HxWxL) with legs extended, excluding door handle. Height of Uuni 3 including chimney: 67cm / 25.2". • Stone baking board size: 33.7 x 33.7 cm / 13.2 x 13.2" • Max pizza size: 13" • Max clearance above stone: 11 cm / 4.3" • Power: approx. 6 kWh • Fuel: wood pellets • Materials: 439 stainless steel, stainless steel rivets, FSC certified wooden handles, cordierite stone baking board. • Uuni 3 is compatible with the forthcoming Gas Burner (As too is Uuni 2S) What's in the box: • Uuni 3 wood-fired oven • Wood Pellet Burner • Cordierite stone baking board • Pizza peel • Manual and safety instructions Please note: wood pellets are sold separately.