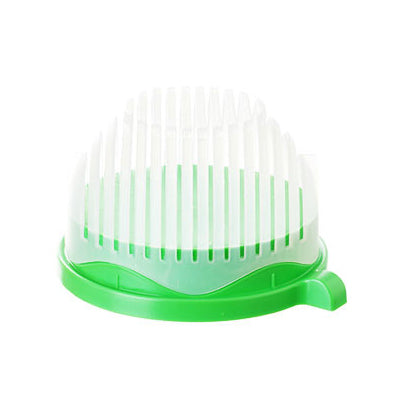 60 second salad cutter bowl
Salad Cutter Bowl allows you to save time making healthy salads for you and your family. It is easy and habit forming to make a salad every day. Finish making your awesome salad in only 60 seconds!
CLEAN & SAFE: Cutting board free, and it is no need for you to clean to many containers anymore. Just cutting all kind of fruit or vegetable directly in the cutter bowl. And no need to worried about cutting your finger anymore. PRACTICAL & MULTIFUNCTION: The bowl can be used as a strainer, with which can wash your lettuce together, the pedestal can be used as a cut board, just sets them up for a perfect Crosscutting. Spin the strainer and slice your fruit or vegetable smaller. GREAT HELPER FOR HEALTHY LIFE: The salad container matches with a variety of foods, keeping nutrition balanced. It is also the great helper for a family to live a healthy life. Healthy: HDPE+PP Food Grade Material BPA Free, don't need to worry that it will endanger your health.