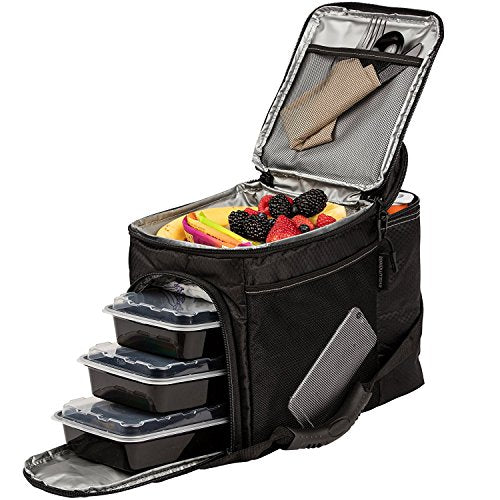 Healthy meal prep containers - bpa free
FREE SHIPPING - 

Two Day Shipping (Domestic - USA)
SAFETY AS PRIORITY: Our meal prep containers are made in Canada, use certified BPA-free and CFC safe materials. Made with only FDA and CFIA approved materials, our containers are food safe and environmentally sustainable.
FULLY REUSABLE: From FREEZER to MICROWAVE (no lid) to DISHWASHER. Airtight, leak resistant, with a higher lifecycle than those made by many of our competitors.
COMPACT & LIGHTWEIGHT & STACKABLE: Perfect for meal prep bags and packing portion controlled meals on the go!
SINGLE COMPARTMENT: Makes meal prepping versatile. Easily adjust macro portions throughout your entire meal prep diet.
5 STAR EXPERIENCE GUARANTEE: We know mistakes happen. If you aren't 100% satisfied, or there are any issues at all with your order, just contact us!
Perfect for meal prepping multiple meals at once, freezing in the freezer, microwaving (no lid), then washing in the dishwasher (recommended top rack) before next use. Control your portions and count your macros! Our meal prep containers are airtight and leak resistant. They can be reused more often than those made by many of our competitors. More details: Food-safe: only high-quality, food-grade virgin polypropylene is used. Toxin-free: contain no BPA, phthalates or toxic additives. Made in Ontario, Canada to strict FDA and CFIA guidelines. Microwave (no lid) & Dishwasher safe.

Containers are made from microwave safe materials and are suitable for reheating precooked foods. Frozen food must be defrosted before reheating. Never heat beyond 100°C/212°F (the temperature of boiling water). Some foods, such as those high in oils, fats, sugars, or salts, can reach temperatures above 100°C/212°F when heated too quickly and/or for too long. Such overheating can cause damage and potentially melt the container. Should this occur, discard both the container and its contents.
Never use the container in a conventional oven, convection oven, toaster oven or on a stovetop heating element. Always leave the lid open when using the microwave.

Containers are made from residential dishwasher safe materials. For dishwashers that have an exposed heating element, the containers must be securely placed on the top rack.
Direct contact with exposed heating elements will result in deformation and possible melting.


Manufacturer: Evolutionize
CLAIM YOURS!
4 REASONS TO BUY FROM US: