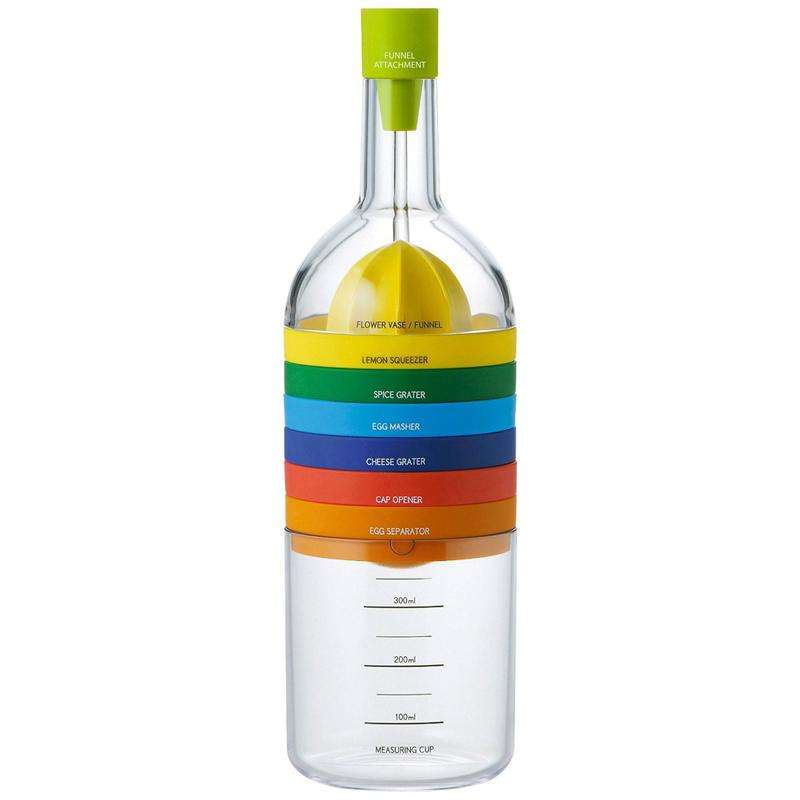 Multi-functional 8 in 1 kitchen tool
Made from food-grade, non-toxic plastic. Looks great even just sitting on the counter. A funnel with attachment, for pouring sauces and liquids into containers and a lemon squeezer. It looks great, so you can leave it out on your countertop. Hand-washing is recommended. Practical, simple and elegant in design.

Comes in a different color for easy recognition. All those parts stack together in the shape of a wine bottle! Everyday cooking made easy. All the basic essentials for any kitchen. The 8 in 1 multipurpose kitchen tool bottle is easy on storage, as it is designed to fit nicely into any cupboard. A brilliant gift item for favorite friends.

Comes with a funnel, juicer, grater, egg cracker, shredder, can opener, egg separator and measuring cup. No need to purchase your kitchen tools separately. You will get all necessary accessories in one set. Don't miss it! It looks like an artistic wine bottle.

The elegant vertical stacking feature designed especially for small spaces helps to save space in your kitchen while keeping all the necessary tools at hand! Space saver for kitchen tool, durable, easy to clean and comes in a bottle style with different colors for aesthetic appeal. With all the accessories that you need to help daily cooking become easy and time-saving.

SATISFACTION GUARANTEED OR YOUR MONEY BACK! : If you are not satisfied or face any problem with the product or with our service then feel free to contact us.
juicer

grater

egg cracker

shredder

can opener

egg separator
Handy tool in any kitchen!
Estimated Shipping Time: 12-20 Days